OUTPUT: PROFFESSIONAL
CATHARSIS
N 41∘

4' 59.613"
W 118∘

47' 49.169"
Project Catharsis is inspired by a fractal quality of a lotus flower, which is simultaneously a mathematically calculated geometry. This pavilion is a fractal amphitheater, with a clearly defined central stage, and cantilevered extensions (space possibly occupied by artistic work and explored by people)] that offer infinite possibilities to its users.
In line with Burning Man's theme of 'Multiverse' for 2020, Catharsis is an amphitheatre made of amphitheatres in which everyone is a potential performer. The project's geometry is based on the Poincare disk, where circles increase as they reach the infinite edge of the hyperbolic plane, and would exist in a space where curves are shorter than straight lines.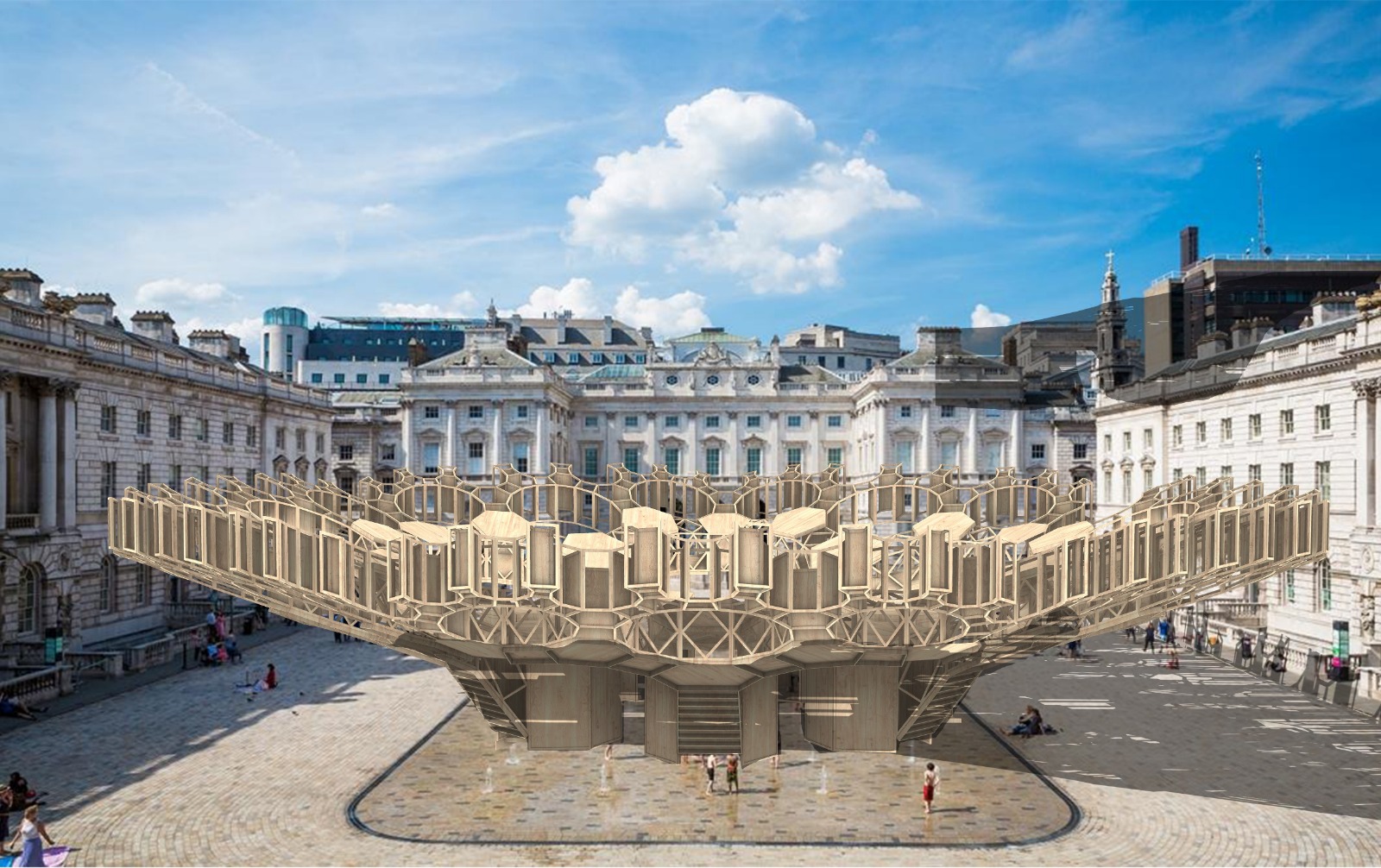 Seven branches will create unique universes filled with community art, as well as forming the default world around the theme of the future of our cities.

The intricate structure will be disassembled and reassembled in the spirit of a new circular economy. As urban environements sprawl, re-thinking the way in which we shape our lives and cities has become imperative. There remains a yearning for deeper connections in a consumerist and individualustic society, and our current strategies for designing cities are failing to keep up.
Instead of burning this project as with Galaxia, an aim is to reassemble the project in the courtyard of London's Somerset House to establish a dialogue between cities, and for the wider community to respond to these messages.
curtesy of: Mamou-Mani Architects
Additional Credits: Catharsis Tea

Architects: Mamou-Mani (ArthurMamou-Mani, Ayham Kabbani, Nina Pestel, Holly Hawkins, Youen O'Malley, Lucy Zakharova, Andros Antoniades, Krishna Bhat)
Engineering: Format Engineers (James Solly, Stephen Melville, Lloyd Evans, Camille Chevrier)
Curators: Therme Art Program (Mikolaj Sekutowicz, Sara Maria Faraj, Shelby Seu Sheena Leach, Giulia Cordier, Ocean, Margaux Gazur, Konrad Schorlemmer, Weihua Yi
Collaborators: Robert Hanea, Philipp Treml, Constanze Leuschner, Lucas Von Oostruum, Jeremy Crandell, Sophia Swire, Jo Craven, Moritz Waldemeyer and Svetlana Marich
︎ BACK TO PROJECTS